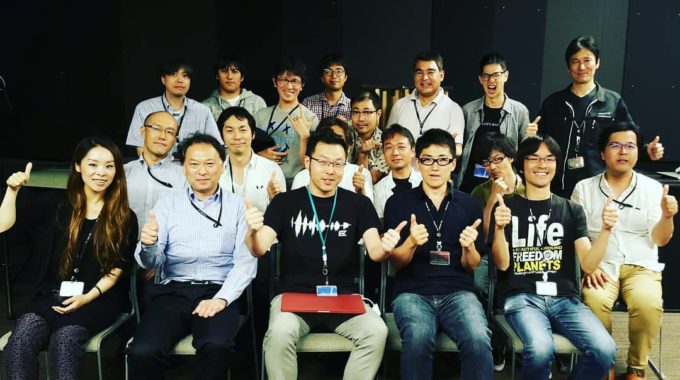 Music Production Hong Kong | Tokyo | Intermediate

Special Promotion: All students will receive a copy of latest software plugin created by James Ting aka "Triggersoniq"
Course Overview
This exciting course is aimed at people who have completed a music production for beginner's course or people with a basic knowledge of music software or music hardware. The course will teach you the more advanced subjects associated with music production which will help you produce professional and polished material.
You will learn all about subjects such as advanced sampling, recording musicians and vocalist, remixing, advanced melody / music structures and creating professional sounding mixes using a combination of the latest and innovative software packages and analog hardwares.
This is a practical course that follows a hands on approach enabling the student to get involved in production process from the outset which an essential ingredient of our all our courses. You will be encouraged to write and record your music throughout the duration of the course, you will compose a professional sounding CD by the end of the course.
During the course you will also study the business side of music where you will learn about insider subjects such as record company formation, digital downloads and royalties, copyright and publishing which will aid you if you intend to release your songs.
If you are looking for a career in music industry, this course is your first step.
If you decide to enroll on a one to one course the structure and timetable is flexible where you are able to study during the daytime, evening and weekends. You can attend the course for two half days or one long day per week, it is also possible to accelerate and complete the course in just 2 weeks.
For further information regarding this or any other course please contact us at here and an adviser will be happy to assist you.
Snapshot of what you will learn during the course
Signal flow
– understand the multitude of functions found on virtual/hardware mixers from the input stage, auxiliary sends to the master fader
Advanced MIDI
– learn to control/ automate filters, volumes and effects on modules and software/ hardware synths using midi controller
Microphone techniques
– learn about the different microphone types, placement, polar patterns and pre amps
Song analysis
– learn bar by bar how melody + songs structure are arranged and produced from the initial idea to the final recording
Advanced sampling
– creative sampling using EXS24 and Kontakt to compile original sound/drum libraries and loops
Sound Synthesis
– learn about oscillators, filters, LFO's and envelopes, learn to modulate sounds by use of additive/subtractive synthesis from modern to classic analog synthesizers.
Intermediate production
– insider secret about the latest production techniques to create polished and professional sounding songs.
Remixing techniques
– understand how to remix other artist's material and how remixes are produced
Hi End signal processing
– using third party plugin EQ, compressors, gates, reverb, flanger and delays to obtain professional sounding mixes
Intermediate mixing
– learn to master and fine tune your final mixes using both software packages and hardware
Live Performance techniques
– learn how to setup music program for a professional live concert/ performances
Music business
– setting up a record company including recording and publishing contracts, royalties and the digital age
COURSE FEES ( 32 hours )
One to one: HK$23,800 per student
Group ( Min. 2 Students): HK$18,800 per student

This course is currently only available on request basis. You are able to enroll on this course at anytime.
How long does the course last? for one to one courses the timetable is determined by the student where he/she picks the days/weeks that suits their lifestyle. For example if you were to complete the course over the usual schedule it would take 8 weeks. but if you wanted to fast track the course it could be completed in as little as 2 weeks. Group course timetables are not as flexible and takes 8 weeks to complete.
How many days? this is the students decision guided by our tutors (one to one course only). For example, most people attend the course for 2 days per week for 8 weeks but some people prefer to study for 1 long day per week for 8 weeks. Others prefer 2 long days for 4 weeks. Timetables are flexible and you are in control.
What time of the day do I attend the course? it your decision, we have morning, afternoon and evening slots in our timetable, we are open 10am to 10pm Monday to Friday and 12-5pm on weekends.
Can I change the content of the course? yes you can, the outline above is simply a guide. It's your course and you decide what subjects you want to learn with expert guidance from our experienced tutors (only available for one to one courses).
Can I pay in installments? unfortunately we are unable to offer payment plans at present
What's next?
If you would like to enroll, contact us at here and we will do the rest!