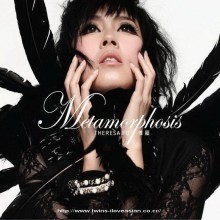 share:
Metamorphosis – Theresa Fu
CD 1. 加加夫人 2. 黑房 3. 無敵 DVD 1. 加加夫人 MV (白色版) 2. 黑房 MV 3. 無敵 MV 4. 加加夫人 MV (黑色版)
By Christmas 2010, Theresa Fu has finally come up with her first music release since joining Filmko last year. The Metamorphosis EP marks the former Cookies member's change from a sexy singer to a full-fledged pop artist. The first plug "Lady Gaga" is Theresa's tribute to the stylish superstar, and in the music video she performs some alluring dance moves designed by famous Korean dance choreographer Jun Hong Bok. There are two other new songs on the hotly anticipated EP, namely the Roy Chow-composed ballad "Darkroom" and the movie Don Quixote theme song "Invincible". The EP comes in two different cover designs (randomly picked for each order) with a bonus DVD containing 4 music videos.