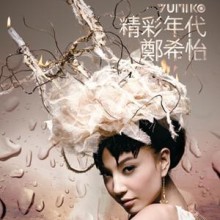 share:
精彩年代 – 鄭希怡 Yumiko
2. 五個世紀 作曲: Ivri Lider + Eli Mizrahi 填詞: 高遠 編曲 +監製: James Ting 原曲為Sarit Hadad的《Bahom Shel Tel Aviv (In The Heat of Tel Aviv)》 3:28 不是我杯茶 作曲: James Ting 填詞: 晴朗 編曲 +監製: James Ting 4:05 單程隧道 作曲: James Ting 填詞: 林若寧 (Rap詞:James Ting) 編曲 +監製: James Ting 《雲上舞》國語版 2:55

Israeli hit tops China music charts
Sarit Hadad's popular song 'In the heat of Tel Aviv' gets Chinese cover that's sweeping country's dance clubs Boaz Arad Published: 02.10.09, 11:25 / Israel Culture
BEIJING – A Chinese version to Israeli singer Sarit Hadad's song "In the heat of Tel Aviv" has been sweeping the music charts in China and Hong Kong in the last few weeks and has also become a big hit at dance clubs in the world's most populated country.
Yumiko Cheng, a successful pop singer and actress residing in Hong Kong is one of the most popular stars in the communist state.
Two recent embarrassing and well-documented incidents won Cheng some dubious fame: During one concert her underwear were revealed after another singer on stage pulled down her trousers; and in another concert she accidentally exposed her nipples to both audience and cameras.
When she started working on her latest album, which was released three month ago, her producers were looking for a hit that could get her back to the spotlight on more favorable terms.
They approached several international record companies and asked to receive materials by pop singers from other countries. One of the companies, EMI, sent them "In the heat of Tel Aviv" – one of Hadad's greatest hits.
Dreaming of going to China The producers and Cheng were instantly taken by the song. "We fell in love with it immediately," Hong Kong-based producer James Ting told Yedioth Ahronoth on Saturday.
Ting contacted the song's creators – Ivri Lider, who wrote the lyrics and Henry, who was behind the tune, and asked for their permission to create a Chinese version for the song. The two consented and Ting wrote Chinese lyrics for the song.
Lider, who first listened to the Chinese version on Saturday thought that it was "cute and funny," while Henry said: "This song is brilliant."
And what was the impression of the song's original performer? "I was very surprised to hear the song," Hadad said. "It's an honor for me. I would love to perform alongside the Chinese singer. I've always dreamed of performing in China, and now this dream could come true."

《精彩年代》是香港女歌手鄭希怡的第10張個人音樂專輯、第2張國語專輯,於2008年11月20日推出。 在本專輯中,Yumiko把以色列流行歌手Sarit Hadad的歌曲「In The Heat of Tel Aviv」,改編成現在國語版的「五個世紀」。歌曲在以色列受到廣泛的關注,因此上了該地的報章頭條。