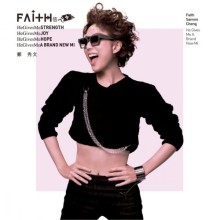 release date:
December 10, 2009
share:
信Faith – Sammi Cheng
信者得愛 Arranged by James Ting
CD 01. 信者得愛 (Featuring MC仁) 02. 罪與罰 (Featuring 24Herbs) 03. 上帝早已預備 04. 不要驚動愛情 05. 結果 06. 你愛我 07. 有一種快樂 08. Forgiveness (英) (Featuring 24Herbs) 09. 阿門 (國) 10. 你愛我 (國) DVD MOOV Live 2009 Sammi 01. 叮叮噹 02. 罪與罰 03. 上帝早已預備 04. 信者得愛 05. 有一種快樂 06. Forgiveness 07. 結果 08. 不要驚動愛情 09. 阿門 10. Forgiveness 合唱: 鄭秀文/陳奐仁 11. Killing me softly with his song Bonus MV 01. 信者得愛 (MV) 02. 罪與罰 (MV) 03. 有一種快樂 (MV) 04. Forgiveness (MV)
音樂先鋒榜頒獎禮
2010 最佳編曲: James Ting - 鄭秀文年度熱門單曲《信者得愛》


Towards the end of 2009, Canto-pop diva Sammi Cheng finally releases her first studio album in years with Faith, with which Sammi offers a new pop sound that could also be her most spiritual yet! As a harbinger for her 2009-2010 Love Mi world tour, the highly anticipated new album contains 11 tracks of pop-flavored gospel songs through which Sammi shares with listeners her refreshed insights on life. Backed by People Mountain People Sea, here Sammi collaborates with a group of different musicians, including MC Yan on the concert theme song "Believers Are Sure Of Love", 24Herbs on "Crime And Punishment", Ivana Wong on "The Outcome", and Chow Yiu Fai on "Amen". Sammi also covers Zac Kao's "Don't Disturb Love".